Shoot, Shop & Train
5 Star Gun Range in Northern Illinois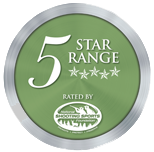 ​SGW is a 5 star range with the National Shooting Sports Foundation. We have achieved superior status in management, operations, appearance, shooting sports development and our amenities. We are also a Glock Blue Label dealer. We buy, sell, trade and consign firearms and have a full line of accessories.  Foid cards can be applied for here, as well as hunting & fishing licenses. 
New & experienced
shooters welcome!
CCW Classes, Private Instruction, & More
Illinois hunting and fishing licenses
Provide consignment services
Buy, sell, and trade firearms
"We drove past Smokin Gun Worx the other day and I told my wife that, after taking the Concealed Carry Class, those people seem more like friends. They do a good job of making people feel welcome. The staff and instructor, Deane Marrs, were friendly, very safety conscious and professional without being condescending."
"My thoughts were all positive. I feel I am fully prepared to file for my conceal carry permit. I thought Instructor Samoy was professional, completely knowledgeable in his job, he was caring, insightful, always safety conscious, and slightly funny.. (but don't tell him I said so.) The facilities are beautiful, inviting, clean, and confrontable. Employees are polite, informative and quick to help. Plus, the owner was also extremely friendly and helpful. I felt safe and like i was among friends. I will definitely take more classes at Smokin gun Worx."
– PAULA HENKEL
"Great people to work with. Mike was very helpful, knowledgeable and extremely friendly. Range is "state of the art." So fortunate to have a facility like this in our area."
"These folks go out of their way to make you feel comfortable being there. They appreciate your business, and let you know. The service is above and beyond."
Experience it for yourself.
8785 N Baileyville Rd
Forreston, IL 61030
9 am - 7 pm
Monday & Friday
9 am - 5 pm
Tuesday, Wednesday & Thursday
9 am - 3 pm
Saturday & Sunday