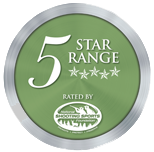 Training for All Skill Levels
We offer beginner, continuing education, conceal carry, and hunter safety courses.
We also have special events such as the Glock Shooting Sport Competition, Monthly Competitions, Kids Shoot Free and Fundraisers for Local Youth Shooting Sports. Come in with your favorite sweetie for Date Night. Enjoy a delicious meal in a romantic atmosphere followed by an hour on the range. If you're curious about guns try our Gun Curious program to see if guns are for you.
Our classroom and hands-on introductory classes give the new shooter the basic fundamentals of firearm knowledge to ensure safety in shooting sports.
Continuing Education Classes
Expanding on the basic fundamentals of firearm knowledge, our continuing education classes help the shooter become more knowledgeable in targeting, holster drawing, firing with movements, home defense and understanding the legality of firearms. 
Concealed Carry Classes & Renewal
These classes educate the shooter to be able to carry a concealed firearm on one's self in public and gain an understanding of the laws and responsibilities involved.
Learn to hunt in a safe capacity and handle firearms safely while abiding by the laws to enjoy the sport of hunting.
Learn how to respond in various situations within the medical fields.
Experience it for yourself.